Up Next for Patient Safety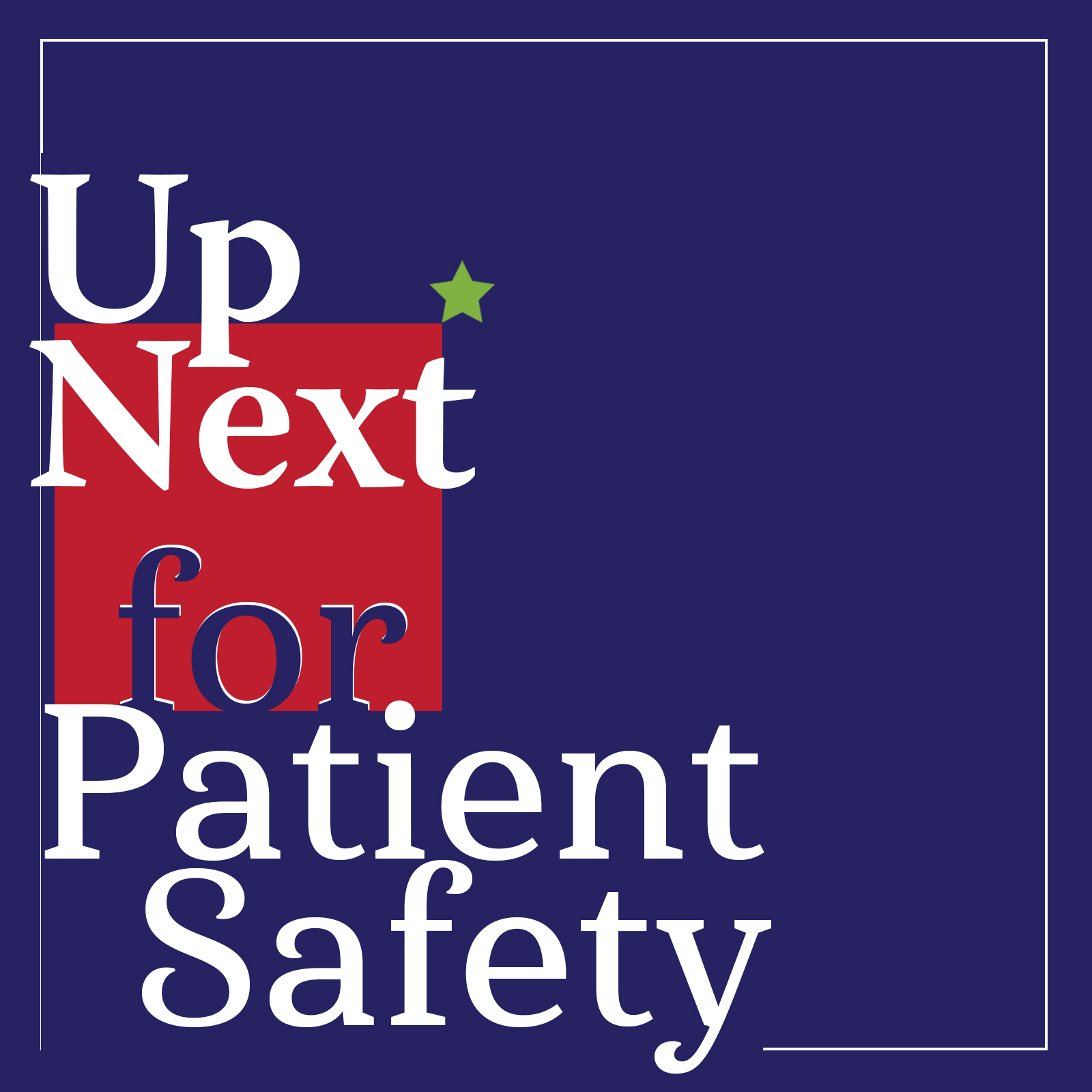 Welcome to the Up Next for Patient Safety podcast.
There's an epidemic in our country for which we have no vaccine: the death rate from preventable medical error that kills about 250,000 Americans a year. But there are powerful solutions available, solutions that work in other high risk, complex industries, that could be applied to health care.
Our podcast series, Up Next for Patient Safety, engages with experts in health care and technology to examine the best paths to guaranteeing patient safety. Hear from national thought leaders about the leading solutions to existing problems that are possible right now. We have the capacity during the "once in a century" pandemic to gain the attention and support of a nation to address the current and ongoing errors and adverse events that cause unnecessary illness, death, and long-term disability. Up Next for Patient Safety is executive produced and hosted by Karen Wolk Feinstein.
Up Next for Patient Safety Episodes:
Episode 13: Lessons from a Netflix Film [Show notes]
Join aviation journalist Andy Pasztor, formerly of the Wall Street Journal and a central figure in the Netflix documentary, and transportation safety expert Chris Hart, founder of Hart Solutions LLC, pilot, attorney and former chair of the NTSB, for a fascinating conversation on how a "culture of speed" at Boeing depicted in a recent Netflix documentary, "Downfall: The Case Against Boeing," led to tragic consequences and how to protect safety in our revenue-driven approach to health care.
Episode 12: Systemic Solutions [Show notes]
Join Dr. Kathleen Sutcliffe, Bloomberg Distinguished Professor at Johns Hopkins University and author of Still Not Safe, and Dr. Vivian Lee, president of health platforms at Verily Life Sciences and author of The Long Fix, for a glimpse into the potential for a collaborative, tech-enabled transformation of healthcare safety.
Episode 11: England & Norway Chart the Course [Show notes]
Join Dr. Carl Macrae, professor of Organizational Behavior and Psychology at Nottingham University Business School in England, and Dr. Siri Wiig, professor of Quality and Safety in Healthcare Systems at the University of Stavanger in Norway, for an inside look into the forces that caused both England and Norway to recently establish national agencies solely focused on addressing safety problems in health care. Learn what inspired action on patient safety and the tactics that helped to build broad support for the endeavors.
Episode 10: Doctors Evaluating Doctors [Show notes]
Join internist and professor Dr. Thomas Gallagher of the Departments of Medicine and Bioethics and Humanities and associate chair for Patient Care Quality, Safety, and Value at the University of Washington, and pediatrics professor Dr. Gerald Hickson, chair of Medical Education and Administration and founding director of the Center for Patient and Professional Advocacy at Vanderbilt University Medical Center, as they discuss the concept of physician peer review and how to increase accuracy of and accountability for performance data to reduce medical error.
Episode 09: Transforming Physician Culture [Show notes]
Join physician Dr. Seth Wolk, adjunct professor in the Department of Health Management and Policy in the School of Public Health at the University of Michigan, and technology design researcher John Zimmerman, Tang Family Professor of Artificial Intelligence and Human-Computer Interaction in the School of Computer Science at Carnegie Mellon University, as they explore the human context for medical error – and how we can get physicians on board with innovative technologies that could make the healthcare system safer.
Episode 08: Looking Back to Move Forward [Show notes]
In a special episode to kick off the new year, three renowned leaders in patient safety offer critical insight on where we've come from and how to move forward. Join host Karen Wolk Feinstein and special guest co-host Martin Hatlie of Project Patient Care and MedStar Institute for Quality & Safety in a compelling conversation with Dr. Carolyn Clancy of the Veterans Health Administration, Dr. Kenneth Kizer of Atlas Research, and Dr. David Mayer of MedStar Institute for Quality & Safety as they reflect on the origins of the patient safety movement and look toward the future of patient safety in the U.S.
Episode 07: Anesthesiology's Answer [Show notes]
Join special guests Dr. Aman Mahajan, professor and chair of anesthesiology and perioperative medicine, bioinformatics, and pharmacology and professor of bioengineering in the Swanson School of Engineering at the University of Pittsburgh and chair of UPMC Perioperative Services, and Dr. Jeffrey Cooper, professor of anesthesia at Harvard Medical School and founder of the Center for Medical Simulation, as they explore how the specialty of anesthesiology has embraced technology and a culture of safety in ways that others have not.
Episode 06: Pandemic Preparedness [Show notes]
Join special guests Dr. Georges Benjamin, executive vice president at the American Public Health Association, and Chris Johnson, president and co-CEO at TeleTracking, as they explore how lessons learned through the pandemic response can be applied to healthcare safety.
Episode 05: Safety with Equity [Show notes]
Join special guests Dr. Cara James, president and CEO at Grantmakers In Health, and Dr. Kimá Joy Taylor, founder of Anka Consulting and a nonresident fellow at the Urban Institute, as they explore health equity issues within patient safety and the work that is needed to create a fair and just opportunity for every person in the U.S. to be as healthy as possible.
Episode 04: Factoring Humans + Machines [Show notes]
Join special guests Dr. Jonathan L. Gleason, executive vice president, chief clinical officer, and endowed James D and Mary Jo Danella chief quality officer at Jefferson Health, and Dr. Raj Ratwani, vice president of scientific affairs at the MedStar Health Research Institute, director of the MedStar Health National Center for Human Factors in Healthcare, and associate professor at the Georgetown University School of Medicine, as they explore how human factors engineering can be applied within health care to help humans and machines work better together.
Episode 03: Paying for Safety [Show notes]
Join special guests Jessica Brooks, MPM, president & CEO of the Pittsburgh Business Group on Health and CEO & founder of US Health Desk, and Nancy Guinto, MHA, executive director of the Washington Health Alliance, as they explore the financial incentives that impact health care at every level in the United States. If safety is going to improve, what needs to change in the healthcare economy, and what progress and solutions are available to impact safety today?
Episode 02: The Answer Is… Big Data [Show notes]
Join special guests Dr. David Classen, professor at the University of Utah School of Medicine, and Michael McShea, MS, MBA, group chief scientist at the Johns Hopkins Applied Physics Lab in the Health and Human Systems group of the National Health Mission Area. Discover existing solutions in applications of autonomous safety technologies and predictive analytics that could anticipate harm and intervene to prevent harm before it occurs.
Episode 01: Medical Error & the NTSB [Show notes]
Join special guest host Harry Litman, the host of the Talking Feds podcast, as he interviews Robert L. Sumwalt, former chairman of the National Transportation Safety Board (2017-2021), and Dr. Karen Wolk Feinstein, president and CEO of the Pittsburgh Regional Health Initiative, as they explore this persistent problem in health care and a new proposed solution: a National Patient Safety Board (NPSB) modeled after what has made airlines one of the safest industries in the country.
Teaser Trailer
What can you expect from Up Next for Patient Safety? The best ideas to make healthcare safer today.