FAQs
What is the National Patient Safety Board (NPSB)?
The goal of the NPSB is to prevent and reduce patient safety events in healthcare settings. As a nonpunitive, independent board, the NPSB is modeled after the National Transportation Safety Board (NTSB) and the Commercial Aviation Safety Team (CAST). The NPSB would guarantee a data-driven and collaborative approach to preventing and reducing patient safety events in healthcare settings. Its goal is to dramatically improve the understanding of major sources of harm and bring stakeholders together to create solutions.
The NPSB would serve three main functions:
Convene a Healthcare Safety Team representing the major public and private stakeholder groups involved in patient safety, which would review measures and data sources related to patient and provider safety in healthcare settings to identify major sources of harm.
Study contextual factors and precursors to harm and consider how to proactively address them as well as opportunities to leverage existing technologies to make prevention functions as autonomous and fail-safe as possible.
Recommend and collectively adopt solutions to prevent errors from happening. With input from the public–private Healthcare Safety Team, the NPSB would offer evidence-based practices and recommendations reached by consensus that would prioritize the use of fail-safe and automated technologies capable of building better environment for patients and healthcare workers.
Learn more about what an NPSB is and isn't here and here.
What are the NTSB and CAST?
The NTSB (National Transportation Safety Board) is the federal agency that independently studies the accidents, mishaps, and close calls in transportation. Teams of experts from a range of disciplines then propose solutions and corrective actions to prevent future harms. Many NTSB solutions have become standard practice and widely adopted, producing exceptional levels of safety—and saving lives.
CAST (Commercial Aviation Safety Team) is a U.S. government–aviation industry partnership that has developed an integrated, data-driven strategy to reduce the commercial aviation fatality risk in the United States. CAST analyzes causes of past accidents, identifies areas where changes could have been made to prevent them, and recommends enhancements to improve safety.
The NPSB blends the model in the following ways: It is structured like the NTSB with a five-member board, functions as an independent board, and deploys multidisciplinary expert teams to study and make recommendations. It utilizes a similar model to CAST in that it would form a public–private partnership and leverage/create an information sharing model like the ASIAS data sharing system, and it would work collaboratively with stakeholders to collaborate and reach consensus on solutions. The NPSB is different from NTSB in that data submission and participation are voluntary.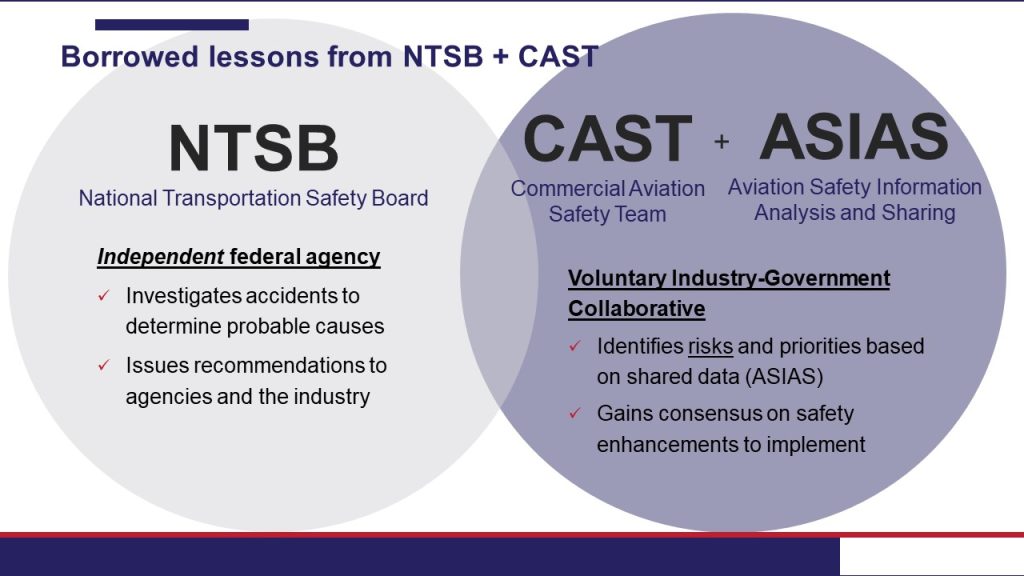 Why do we need an NPSB?
Today, health care is at a tipping point. The industry is facing a "triple crisis" of workforce shortages and burnout, a rise in safety issues, and a pandemic. A report by the Office of the Inspector General found that 25% of hospitalized Medicare patients experienced harm in October 2018, prior to COVID-19. During the pandemic, there has been a significant deterioration in patient safety measures according to recent surveys of providers and the Centers for Medicare and Medicaid Services' and Centers for Disease Control and Prevention's patient safety measures. We need breakthrough solutions that help providers and staff keep patients safe by building them a safer system with autonomous solutions to prevent medical errors.
Isn't there already an agency doing this work?
Although there are many agencies within the federal government that address issues related to health and health care (such as the Centers for Medicare and Medicaid Services, Centers for Disease Control and Prevention, Agency for Healthcare Research and Quality, Health Resources and Services Administration, U.S. Food and Drug Administration, and Department of Veterans Affairs), there currently is no coordinated federal strategy to address widespread preventable harms.
The NPSB is designed to augment the work of federal agencies and long-standing patient safety organizations without displacing them. By remaining independent from other agencies that regulate, license, and accredit, there is no fear of punishment, and this enables all parties in the public–private partnership to be transparent and come to the table to share data and reach consensus.
Who is leading the effort to establish an NPSB?
The NPSB Advocacy Coalition was established in February 2021 to advance the creation of an independent federal board with the ability to study preventable medical errors and recommend solutions. The NPSB Advocacy Coalition represents providers, consumers, health plans, patient safety groups, employers and other purchasers of health care, technology companies, foundations, and universities. See the full coalition member list and learn how to join the coalition here.
How can an NPSB fix the problem of medical error?
Electronic health record systems are in broad use within health care, and these systems provide an abundance of data that can be mined for information related to how and why incidents occur. An NPSB would support healthcare agencies in monitoring and anticipating adverse events by using artificial intelligence and machine learning to identify adverse events and potential errors. The NPSB would study these events and create scalable remedies, including autonomous solutions, to prevent medical errors. By looking at medical errors from a systemic perspective, the NPSB will be able to identify where breakdowns occur within healthcare processes to keep problems from happening again.
Will an NPSB place blame for medical errors?
The NPSB will be an independent, nonpunitive board. The intent is not to place blame for mistakes but to identify precursors to widespread harms and recommend solutions to keep the mistakes from happening again.
The NPSB would not regulate and would not serve as an accreditation, licensing, or public reporting body. Its independence from these bodies would also promote the nonpunitive, collaborative nature of the NPSB's functions. The NPSB would also include nonpunitive protections for healthcare workers and providers. For example, information from the NPSB's study reports would not be admissible in civil proceedings.
Will the NPSB have access to my personal health information?
The NPSB will not have access to personal health records, but rather will identify trends and vulnerabilities in healthcare delivery via deidentified, aggregated data to identify and anticipate the major sources of harm.