Episode 06: Pandemic Preparedness
Join special guests Dr. Georges Benjamin, executive vice president at the American Public Health Association, and Chris Johnson, president and co-CEO at TeleTracking, as they explore how lessons learned through the pandemic response can be applied to healthcare safety.
Listen to this episode on: Apple Podcasts | Google Podcasts | Spotify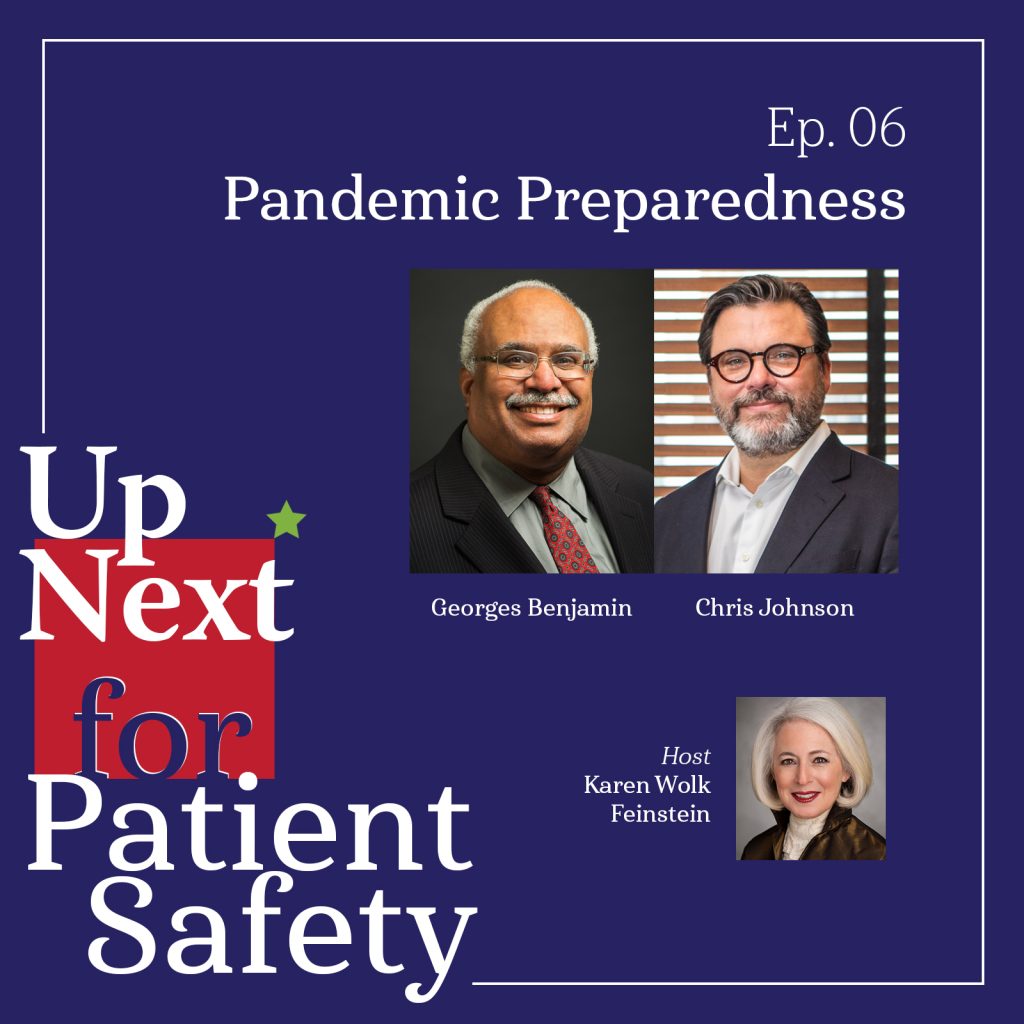 Featured Speakers
Referenced Resources (in order of appearance)
Episode Transcript
[00:00:00] Georges Benjamin: It was here. It was terrible. Uh, it would have been bad, no matter what, but a lot of those deaths, the morbidity and mortality, were absolutely preventable…
[00:00:14] Karen Wolk Feinstein: Public health departments are exchanging information with the CDC on old fax machines. This gap is terrifying!…
[00:00:23] Chris Johnson: And a care traffic control center is the epicenter of health care operations in a system. And we have proven that this can scale from a small community hospital to a large statewide management system or one set up to do the work of a nation…
[00:00:38] Karen Wolk Feinstein: Welcome back to Up Next for Patient Safety, where we envision a world where preventable harms are avoided and where we examine promising paths to prevent these tragedies before they occur. So I'm your host, Karen Feinstein, CEO, and president of the Jewish Healthcare Foundation and the Pittsburgh Regional Health Initiative, which is a multi-stakeholder quality collaborative. We've been working to reduce medical error for over 20 years and mostly unsuccessfully. But we can't give up because there's too much at stake, that is, the loss of approximately 250,000 lives a year and long-term injuries for many more.
On today's episode, we're talking about pandemic preparedness. It's pretty apparent that the United States did not manage the COVID-19 pandemic well. When I'm receiving sympathy from women leaders in Rwanda, Uganda, Germany, and Australia, I'm embarrassed that my nation, the richest, most scientifically advanced nation in the world deserves their condolences. Reading Michael Lewis' "The Premonition" and Lawrence Wright's "The Plague Year" only reinforces this message, "we could have done better." Our listeners might wonder what do pandemic preparedness and medical error have in common? Why would a podcast series about medical error and a National Patient Safety Board stray into pandemic mistakes?
My challenge is to make that connection here today with our two guest speakers, because I believe that both problems share root causes, some of which are antiquated workflows and work roles, fragmented systems of responsibility and accountability, a lack of available timely, actionable, and credible data. The application of those data to promising interventions and solutions, a counterproductive fear of technology, and a resulting inability to rationalize the distribution of health professionals, supplies and updated equipment. So today we have two guests who can address this assertion and help me make the case. Chris Johnson and Georges Benjamin.
Chris Johnson is president and co-CEO of TeleTracking. Through his leadership, TeleTracking has built collaborations with health systems across four countries, which is driving efficient operations. TeleTracking technology includes sensors and monitors throughout hospitals, as well as access to critical data. TeleTracking command centers in some hospital systems actually improve patient and caregiver safety during COVID. By managing hospital bed capacity, tracking patient progression from admission through discharge, rationalizing health professional assignment, and the distribution of equipment and supplies. TeleTracking also stepped in to manage critical hospital data when the systems at CDC and HHS were overwhelmed. Before joining TeleTracking Chris served as the chief technology officer for GE Healthcare's asset management, patient flow and hospital operations management platforms. Chris holds an MBA from the Darden School of Business at the University of Virginia and a bachelor's degree in government from George Mason university. Welcome Chris.
Georges Benjamin, who is known to so many of us as the executive director of the American Public Health Association (APHA). Georges is known as one of the nation's most influential physician leaders and he's a great safari companion. From his firsthand experience as an emergency physician, he knows what happens when preventive care is not available and when the healthy choice is not an easy choice. As executive director of APHA since 2002, he is leading the association's push to make America the healthiest nation in one generation. He came to APHA from his position as secretary of the Maryland Department of Health and Mental Hygiene. He became secretary of health in Maryland in April 1999 following four years as its deputy secretary for public health services. As secretary he oversaw the expansion and improvement of the state's Medicaid program. Georges of Gaithersburg, Maryland is a graduate of the Illinois Institute of Technology and the University of Illinois College of Medicine – not full of fear of technology, I'm sure! So thank you and welcome both Chris and Georges.
So I'm going to begin Georges with this question, in the United States, we often note a gap between our medical systems and public health systems. The gaps seem to be evident in the lack of coordination and our response to COVID. This gap may also contribute to the rate of medical errors in the United States. I know a faculty at one school of public health – I won't mention who told me bluntly – "medical errors are not a public health problem." yet the Centers for Disease Control tracks hospital infections as well as other adverse events. So do you yourself see a gap? And if so, what led to this gap?
[00:06:02] Georges Benjamin: Thank you, Karen, let me just say that if it hurts people or kills people, it's ours. So if your colleague doesn't think it's a public health issue, they're just absolutely wrong. And not just medicine, but a way upstream to all the social determinants that influence our health. I think, you know, one of the things that's real clear that I learned in emergency medicine, it's all about the handoff. And if you look at medical errors, a lot of our problems are with systems that just don't align real well. And the handoffs just don't go real well. So when you have a public health system, which has historically been very segregated from the medical care system… why are we surprised that we have huge problems with that handoff between the two systems? They've been designed separately, they don't necessarily work or align real well, the data systems are separate.
I know Chris was going to talk about their amazing data system a little later, but the point is, when you craft a system without having it structured in a way that really focuses on the outcomes that you want for patients, you get what we got during the pandemic, which quite frankly… while it would have – it was here, it was terrible it would have been bad, no matter what – but a lot of those deaths, the morbidity and mortality were absolutely preventable.
[00:07:18] Karen Wolk Feinstein: Do you have any ideas on how we bridge that gap in the future? I mean, it seems to be a major challenge.
[00:07:24] Georges Benjamin: Well, I think the first thing was obviously we had a leadership that did not provide things in a kind of a consistent, organized manner, the way that we would do in any kind of emergency management system. You know, you roll up a command system. You look at what's going on. You use data-driven decisions. And there was a lot of data-driven decision-making in some cases, but it wasn't uniform. It wasn't consistent. It wasn't in a way that brought together the federal, state, local partnership and a lot of the data quite frankly in public health was a day late and a dollar short. One of the challenges we have in public health is our data systems are not consistent, they don't share data quickly.
And the fact that we had fax machines that we had to utilize to send around paper data, which is captured by pen and ink using numbers that were sometimes days and maybe even weeks late is emblematic of the system. And then of course, the fact that it's been underfunded for just so many years, and that means that the people and their training and the systems weren't in place to really provide the kind of response we needed for something which was overwhelming as COVID-19 Pandemic.
[00:08:35] Karen Wolk Feinstein: And we'd love to see the medical community come forward and support their colleagues in public health. I know one local public health official said that when she was out in the hospital as a medical doctor, she was this esteemed authority. But now that she's head of a local public health department, she's a punching bag, you know, she's fair game. So it would be great to see some of that esteem passed on to public health.
Chris, can you provide an overview of TeleTracking's technology? You're the one to tell us the role that innovative technologies like yours play in strengthening perhaps the public health infrastructure in the United States, managing pandemics, reducing medical errors, all the things we dream about.
[00:09:23] Chris Johnson: Well, thank you, Karen. And I'll answer the question by way of example of some of the things we are doing and some of the things we plan in the future. But to start with, TeleTracking is a 31-year-old Pittsburgh based company and we're focused solely on healthcare operations, improving visibility, productivity, efficiency, quality, and safety. And we do this through our advanced technology best practices, backed with world-class advisory and consulting, and leading-edge analytics. And so TeleTracking helps hospital systems improve their financial performance by reducing costs and increasing revenue. But most importantly – and I think more to the subject -serve more patients more efficiently, and efficiency and safety and quality go hand-in-hand, as I think you know Karen better than most.
So we do believe it's possible to bend the cost curve of healthcare down while improving access and quality of care. And our technology platform creates, as you asked the question, that more of a shared consciousness across the healthcare system, through three major components. I would look to our branded IQ platform with a unifying capability of our operational command center.
But the first piece is really capacity management that creates visibility and manages workflow for patients, bed, staff, and equipment. Identifying and removing waste of time, bottlenecks, roadblocks, and anything to efficient patient care and flow. The second piece is access to care. Our transfer center capabilities facilitates the movements into, through and out of various care settings.
And you kind of think of this as a logistics system that makes things move when they're ready to move. And the third is our analytics platform known as Synapse, as a modern cloud-based analytics platform that provides three things. Hindsight, so we can learn from the past, that includes medical errors and things of that nature that you and I've talked about extensively. Insight, so that we can react in real-time based on the markers that tell us that something is going to happen or something that's happening at the moment. And Foresight so we can plan in anticipation of that of the future.
So these components and this technology – innovative technology – can operate independently to solve individual problems, but they really comes to life when unified with the methodology, the operational command center. And this is no different than what you would expect in an air traffic control center or a mission control that most people are familiar with. In fact, we trademarked this as Care Traffic Control over a decade ago. And a care traffic control center is the epicenter of healthcare operations in a system. And we have proven that this can scale from a small community hospital to a large for-profit system across twenty-two states, or statewide management system, or one set up to do the work of a nation.
And none of this was more important than during the global pandemic where TeleTracking worked with over a thousand hospitals in the US, Canada, UK, and Germany to manage operations during the single largest healthcare crisis of our lifetime. And our clients were able to use this platform to manage through the pandemic much better than those who did not have this visibility. And not having the visibility to make better decisions, for many of them, it was business as usual. They were able to load balance their patients and ensure that their patients, COVID and non-COVID, received the care they needed in a timely manner and in an efficient and safe way.
And beyond that, getting to your public health question in the last year, TeleTracking is over three decades of work and healthcare, improving visibility, productivity, efficiency, quality, and safety were a key decision point for ASPR, the Assistant Secretary for Preparedness and Response, and HHS who engaged us as part of the national COVID-19 response. And starting in April of 2020, TeleTracking began working with over 6,500 hospitals in the US on behalf of the federal government to create real-time visibility into the health of our healthcare system, where we collected data on bed capacity and utilization, ICU capacity, COVID diagnosis and demographics, PPE inventory, and later therapeutics and vaccine utilization.
And so through TeleTracking and what is known as HHS Protect, which was formed in 2020, to George's point earlier, we all wish it had been formed prior. We have collected data and created information that has been the basis for Cares Act funding to states and hospitals, the distribution of PPE, therapeutics, and vaccines… where to deploy additional capacity where needed. And this has been acknowledged by the government to saving hundreds of thousands of lives.
So moving forward, we see the benefit of this platform, not only in healthcare policy, but also informing economic policy and has important national security implications. And we see them a future where this capability extends wellbeing beyond COVID-19 and can be expanded to meet the critical needs of the non-pandemic disaster response, patient safety and medical errors, for instance. One thing is for certain, and I'll end here, we have established something that has never existed in our nation's history. And we never want to go back to a time like before 2020, where we lack the visibility needed into our vital healthcare infrastructure to safeguard our citizens.
[00:14:40] Karen Wolk Feinstein: Well, it's empowering and enormously satisfying to hear about the sophisticated technologies that you bring from the private sector. But then I look at George's reality in public health departments in exchanging information with the CDC on old fax machines. And I say this gap is terrifying and there's no other industry: manufacturing, transportation, nuclear power, that is complex and deals with such high-risk situations as public health that has a technology infrastructure that is relatively primitive. So I know we're going to hear a lot more about command and control centers as time goes on and the way that they can be purposed for safety. But let me turn to Georges now, now that I've asked you, Chris, to boil the ocean.
I'm going to ask Georges, we know how the public health system in the United States struggles with outdated infrastructure, a shortage of funding, and yet it has to address major threats to population health, including the recent pandemic and medical error. But often because of this lack of technology in a very uncoordinated and crisis-mode way, how can we work toward a system that's more proactive and planning for coordinated responses to future public health crises? What do we have to do differently to make major progress in your vision for a future public health system?
[00:16:16] Georges Benjamin: Thanks, Karen. I think the first thing we have to do is recognize that we have to be more proactive when we're thinking about these kinds of things. You know, the challenge for this particular pandemic was we built it on a model of the kind of influenza model. If influenza was a great pandemic we were all afraid was going to hit us and it, and in many ways it was still the most likely disease that was going to cause a really big problem. COVID-2 hit is exactly what the SARS-Cov-2 virus hit. We treated it like SARS-1. And we didn't adapt quickly enough and I think in many ways that was a failure of the command structure, decision-making pulling people together, but we also didn't do such things that we know work. So for example, when we first started doing testing, you know, we decided that we would do drive-through testing and while that's a wonderful way to do it, we left out all the people who were much more likely to be infected.
And we know that's true because that's what happened in H1N1. So there wasn't a new learning, we just didn't adapt the old learnings to a new situation. And so I think the first thing we have to do is ramp up very quickly, the kinds of learnings that we need and in our emergency preparedness world, we've talked a lot about having something like the National Highway Traffic Safety Board (National Transportation Safety Board), which is a board, of course, that looks at things that when you have crashes and the FAA gets involved and they actually have a board which looks at those kinds of preventable – they call them accidents, I never called anything with injury and accident, but nonetheless, that's what they look at – and then they rationally look at it and then they put those learnings into the industry and change societal behavior very quickly. We don't do that in healthcare.
When something bad happens, we take 10-20 years for the learnings to disseminate for best practices to happen. And then we celebrate that we have now figured out how to solve a single issue and then we move on. And we really need to have a way to rapidly ramp up new learnings and disseminate them quickly and then make that practice normative behavior within our healthcare system. And this COVID-19 pandemic has demonstrated this to great effect and it's a practice problem. It's a learning health system problem. It's a data-driven problem, because again, when you're being a data archeologist and getting data from two weeks from now to make decisions today, you cannot in any way make a rational decision.
And quite frankly, you're just guessing. And while we guess pretty good based on our scientific knowledge, in this case, it just didn't serve us well. And we could have, we could again, reduce lots of morbidity and mortality by being more proactive both in the things that would have reduced disparities, but also in just common sense stuff and even communicating to the public, you know, in September right after we knew we were going to about to roll out new vaccines, we were just beginning to talk about what we needed to do to educate the public about vaccines, which should have happened nine months earlier.
[00:19:40] Karen Wolk Feinstein: I am hearing you and I know Chris is because he lives in a world of state-of-the-art technology. So Georges is a graduate of the Illinois Institute of Technology, I know you're not afraid of technology, but I know many of my colleagues in medicine… this isn't their background, this isn't their grounding. And I just came from a conference where it was pretty clear, fear of technology is still rampant, even among some very progressive thinkers. So a lab at Carnegie Mellon University has turned loose a bunch of techies to look at solutions to some public health problems. And it was very interesting, they did a presentation to us.
So there are supports that technology could answer and Chris, I'm going to ask you in the private sector, you guys are totally comfortable right with technology. What opportunities do you think exist for future public private collaborations across the country though will help Georges and others improve our public health and healthcare safety infrastructure? How do we overcome the fears that I saw firsthand related to technology? And even fears of commercial partnerships as if somehow that's a dangerous idea that could advance the technology, human interface for safety, public safety, and health.
[00:21:08] Chris Johnson: I think it's a great question. And yes, we're very comfortable with technology, but technology is often the tool and George mentioned that earlier. But I do think that if you look at the work that TeleTracking and others have done with the federal state and local entities is powerful, powerful proof that this can work. What we did over the last year and a half was not a project. It was a response that was built and a solution that was built on a 30… 30 years and one and a half billion dollars in investment already made into a technology platform, right? There was no reasonable way that you could have achieved what we achieved if you started from scratch. So the power of private enterprise that is investing over years in the service of healthcare clients, coupled with the reach capacity and expertise of our public health agencies created what I think is an unmatched capability. That neither could have created or sustained moving forward on their own.
So how do you ever come the fears? I think you simply, we have no choice and so we're going to have to figure that out. And I do believe that it requires more of a compassionate capitalism approach from companies that are engaging here. I think in many cases companies have not been great friends to healthcare. Selling the next license and things of that nature. What I've seen best in my engagement, is a mission-oriented view, where making a contribution to the greater good is key. Not a focus on profit margin, but a sincere belief and meaning, it brings the right partners to the table. In addition, I think some of the fear in my opinion is that many technology companies and organizations are pushing the advancement of AI and other technologies, which are clearly important tools, but they're doing this over the enablement of nurses and doctors and the transporters and the environmental services workers that are on the front line every day.
And we can never take the human out of healthcare. We need to remove the barriers to their ability to respond to their calling and to practice at the top of their license. That's what technology needs to bring to the table. And so lastly, I would say that it requires that everybody be all-in. Private enterprise, federal, state, local governments and agencies, I believe great foundations like the Jewish Healthcare Foundation and associations such as the APHA represented by Georges here, it plays a key role in advocacy and funding of initiatives that progresses. And then lastly, you had mentioned this, but world-class academic and research institutions need to play a key role. People like CMU right here in Pittsburgh, and by bringing these together, I believe that we bring forward, quite frankly and I don't mean to sound overly dramatic, but the best that mankind has to offer in this.
To solve for the needs of the health system that is under extreme duress today, a burned out and increasingly burned out workforce burdened by inefficiency, which leads to error and dramatically improve safety, quality, and reduce medical errors. And for all of our sakes, we have no choice. We must do that.
[00:24:15] Karen Wolk Feinstein: I'm going to say amen to that! I think there's a great future there and you know, it's interesting as both of you are well aware, the military has special grants to bring together industry, medicine, academia, interdisciplinary collaborations to solve problems on the battlefield and otherwise. We need to do some of that I think right now as a nation to support our public health system. It's so important to the progress we've made in health and yet I often feel looking at what do I know best, our local health department, our state health department. I often feel like they're fighting this battle on their own.
So I look forward to those collaborations and both of you could be a good beginning. Georges, the COVID-19 pandemic raised public awareness of the gaps in the country's public health infrastructure, but in particular, our workforce, which is now I think more than ever under siege, the pandemic also raised awareness of health disparities and inequities. I know very well that you like to attend global health conferences and extract lessons from other countries. You and your wife have traveled wide. So these other countries often do more with less. What do we need to borrow right now and adapt to re-envision who does what to bring public health to our most disadvantaged communities?
[00:25:45] Georges Benjamin: Well, you know, it's interesting, so there is a high-tech and low-tech solution to all of these things and they have to work together. The low-tech solution of course, is to engage in communities, engage them early, getting involved so you know those communities so that you can build trust in the communities so that you can go in there and you can actually engage them in a way that when you ask them to do something that will support and improve their health, they're much more likely to do it because you become a trusted messenger.
So community health workers is a tool that we've used in low-income communities for many, many, many years to build trust and we need to enhance the utilization of those of those workers, but we can also enhance those workers with technological tools, you know, cell phones, I mean, those kinds of things to help them communicate effectively so that they can share information, they can talk to one another. There is a good effort. One of the challenges we do have in many of those communities is the fact that they're not wired. So the good news is our nation is now on a path to begin putting Wi-Fi and wiring up in a wireless way all of our communities, particularly our rural communities in America.
So thanks to Congress and the White House for advancing that kind of infrastructure dollars to begin to build that infrastructure because once we have connectiveness, 24 hours a day seven days a week, it will really enhance the workers that we have in those communities. We know that over 80% of people, at least in the United States, have actually have a cell phone. It may not necessarily be a smartphone so we have to make sure that people can advance them all to smartphones, but to the extent that we can communicate with people and even send texts around. There's a program called Text4baby, which HHS has used for years to try to remind women of their prenatal care appointments to give them health information.
We can do a lot of that. I have been participating for several years in a Flu Near You program, which is a crowdsourcing program. Every morning, I get an email from them asking me whether I'm healthy. It was converted to COVID Near You fairly recently. And it's a way of just tracking where the disease is and how people are feeling as a way of just broadly tracking outbreaks. And then finally, I know Google and Apple have been working on these apps, which are proximity apps to help people identify very quickly when you've been exposed to someone with COVID. And those kinds of technologies, even though they're still in their rudimentary phase, I think as we advance them, the artificial intelligence and that type of stuff will be very important.
However, your point is that we have to have people that are well-trained, comfortable with the technology, and we have to get government to allow them to use it in an effective way in order to be able to be as modern and as up-to-date as the private sector.
[00:28:52] Karen Wolk Feinstein: It's interesting. I went to a conference in Salt Lake City and I don't remember ever signing up for anything for the four weeks after I left. They sent me notifications of people I might've been just – they didn't name them – I might've been in contact with someone who tested positive. I thought that was rather amazing. The other thing that you mentioned that has always struck me as sad, we have community health workers who are part of the senior care network. They go into homes and care for fragile seniors. They are given no information and no technology. They can't enter data. They can't ask for help. They don't extract data, you know, it's, they don't get cues on how to care for conditions they may not be prepared for. And that's all available now, right? In Rwanda, the community health workers have state-of-the-art technology. You and I saw it in South Africa. Can't we bring this to the United States? Chris, maybe that's a new line of business.
So I do want to thank you both so much. And I do need to mention Georges that the APHA is about to have its 150th birthday! So please tell us all what we can do to be helpful. We look forward to the new era and we want to help. So thank you both for joining us for an important conversation about how to strengthen our capacity here in the US to prepare for future pandemics. As we also protect our population from their annual medical error rate, errors many of which could be prevented.
So as the country continues to respond, the pandemic is certainly not over. We shouldn't miss the opportunity to address the ongoing, but lesser known pandemic of medical error. A 2020 article in the Atlantic by James Fallows was titled "The Three Weeks That Changed Everything: What If The National Transportation Safety Board Investigated America's Response to the Coronavirus Pandemic?" It also laid bare for me, the groundwork for that connection between medical error and pandemics. It also started in us a conviction that a National Patient Safety Board – not transportation – National Patient Safety Board, could have played a critical role in our pandemic and in any future pandemic. It could help centralize a crisis response to an annual death toll and then apply advanced data analytics and really true interdisciplinary teams to solve problems rapidly, expertly and efficiently. So let me ask both of you. Could you feel any enthusiasm for that?
[00:31:37] Georges Benjamin: Well, let me start, absolutely! I think that we've got to figure out how we jumpstart this patient safety initiative in the country. We need some kind of group that can do this. We've had some amazing work out of a lot of companies and organizations sponsored by foundations, but at the end of the day we now have to institutionalize it. And what's now happened is the learnings from the mistakes we made, the things that we've done well, do not get institutionalized in our country and such a board may very well be able to, to help us do that. So I think we ought to invest in it and try it.
[00:32:15] Karen Wolk Feinstein: Chris, any last words?
[00:32:17] Chris Johnson: I couldn't agree more with the need of what you're talking about. And quite frankly, the only thing that could make the sadness and the issue of what we saw with COVID is that we don't learn from it and we don't take action. I think everyone's eyes have been opened to the needs here and it has magnified the work that you're doing. So I completely agree. Thank you.
[00:32:38] Karen Wolk Feinstein: Thank you both. So to learn more to our listeners about the effort to establish a National Patient Safety Board, please visit NPSB.org. We want your comments. We want your suggestions. If you found today's conversation as enlightening as I did, please share today's podcast or any of our other podcasts with your friends and colleagues.
We can't improve the effectiveness of our healthcare system without your help. So you, our listeners, friends and supporters are an essential part of our solution. Thank you so much for tuning in.
—
Subscribe on your favorite podcast app: Apple Podcasts | Google Podcasts | Spotify | Pocket Casts